With many manufacturers pausing or slowing production during the coronavirus pandemic, along with the issues surrounding the shortage of semiconductors and the shipping delays compounded by Brexit, we are finding that building back towards capacity and getting the supply chain moving again is taking some time.
Consequently, the lead time for delivery of many new cars is becoming longer than expected. We are keeping a close eye on the situation and will continue to keep our clients proactively informed on progress. We have assembled a list with the support of our core brand partners, as a guide for those who may be looking to renew their car in the near future. As always, the best approach is to get in touch with the experts here at Pike + Bambridge for the latest impartial advice and support!
Audi
Most Audi models are currently seeing a lead time of between three and six months, with the most popular variants (including the A4 Avant and Q5) at around five months. The popular electric model, the e-Tron, is currently experiencing a wait of around four months.
BMW
Compared to Audi, there are fewer BMW cars in stock, but customers are looking at a slightly shorter lead time of around three months for custom builds of most core models. The all-electric i3 is shortest, at one month.
Jaguar
The models in Jaguar's reduced line-up are all sitting at between four and five months, including the popular all-electric I-PACE, and there is a limited number of stock cars available too.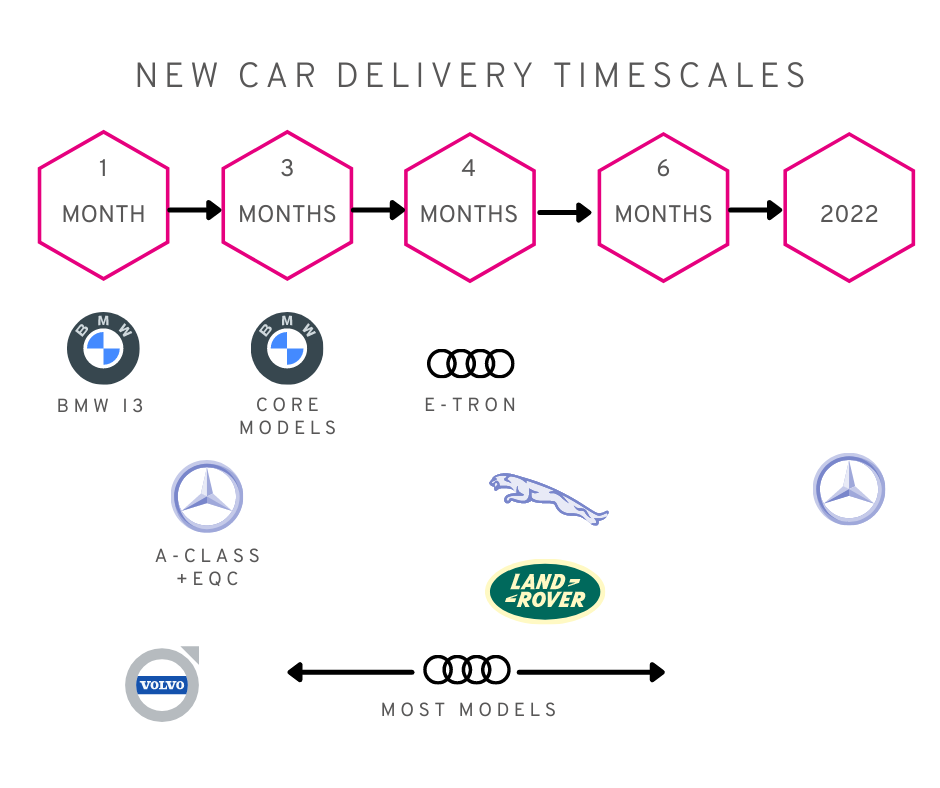 Land Rover
Similarly, all of Land Rover's range have a current wait time of around four to five months, with some stock available.
Mercedes-Benz
Mercedes-Benz is perhaps the brand with the largest range of lead times among its models, with the EQC and some A-Class variants available within around two months of order, but some E-Classes closer to ten months. In addition, our sources have advised that no AMG cars will be produced for the rest of the current year.
Volvo
The Swedish maker may be faring best from the premium brands, with lead times of one to two months for all its core models. The only significant delay for Volvo customers is being experienced by those who choose to option the 360° camera, which is pushing delivery into Q4.
The situation is of course fluid, and we are seeing production and delivery dates move both back and forth, so we'll be sure to keep this list updated with the latest information from our network of trusted core brand partners.
If you'd like to discuss your options, we'd advise getting in touch with our experts sooner rather than later – and for further information on some of the issues mentioned here, such as the semiconductor shortage, check out our blogs.