How does Salary Sacrifice Work?
Similar to the longstanding "Cycle to Work" scheme, salary sacrifice for electric cars allows you to pay costs associated with leasing, insuring, and maintaining your car, before you pay tax or national insurance on that income. This typically saves you 30-60% off the price of your next car.
Your Company Offers Salary Sacrifice

In order to save 30-60% on your new EV, your employer needs to sign up to a formal salary sacrifice scheme provider. It is free for employers to set up and helps them meet their environmental goals too, what's not to like?

Choose Your Brand New EV

Our team of EV experts will guide you through all the things you should consider before you order your new EV. With P+B, you get a 30 minute fact find to talk you through all the details. It is all part of our promise of 'fanatical support' in making the process simpler, faster and more personal.

Your Vehicle is Paid for Through Your Monthly Salary

Your payroll team will be notified once your car is delivered. There is no deposit, just a set number of equal monthly payments, all deducted before you pay tax. One payment will cover your car, your insurance, your servicing and your tyres. Moreover, it also covers early termination cover, should the unexpected occur.
What else is included?
Flexible Term

Salary Sacrifice agreements can run from 24 months to 48 months, depending on what your employer has agreed to.

No Deposit

There are no hidden fees and no up-front deposit, just one set monthly payment. Simple.

Low Monthly Payments

With the combination of your employer's buying power, and the tax savings included, you're set to save hundreds of pounds through taking your next car through salary sacrifice.

Insurance

Your salary sacrifice includes comprehensive car insurance, with members of your family also typically covered.*
*Terms and conditions apply

Servicing & Tyres

One payment takes care of all your day to day maintenance, so you'll not have to worry about those pesky servicing and tyre bills again.

Roadside Assistance

You'll also have roadside assistance included in your contract, meaning when it comes to any help you need at the roadside, support extends to 24 hours a day, 7 days a week.
"Our Purpose has been clear from the start; to clean up the car industry. Whether that be the electric vehicles we supply, or the personal and expert service we put above everything for clients."
Piers Bambridge, CEO
How much do I save with a Salary Sacrifice scheme?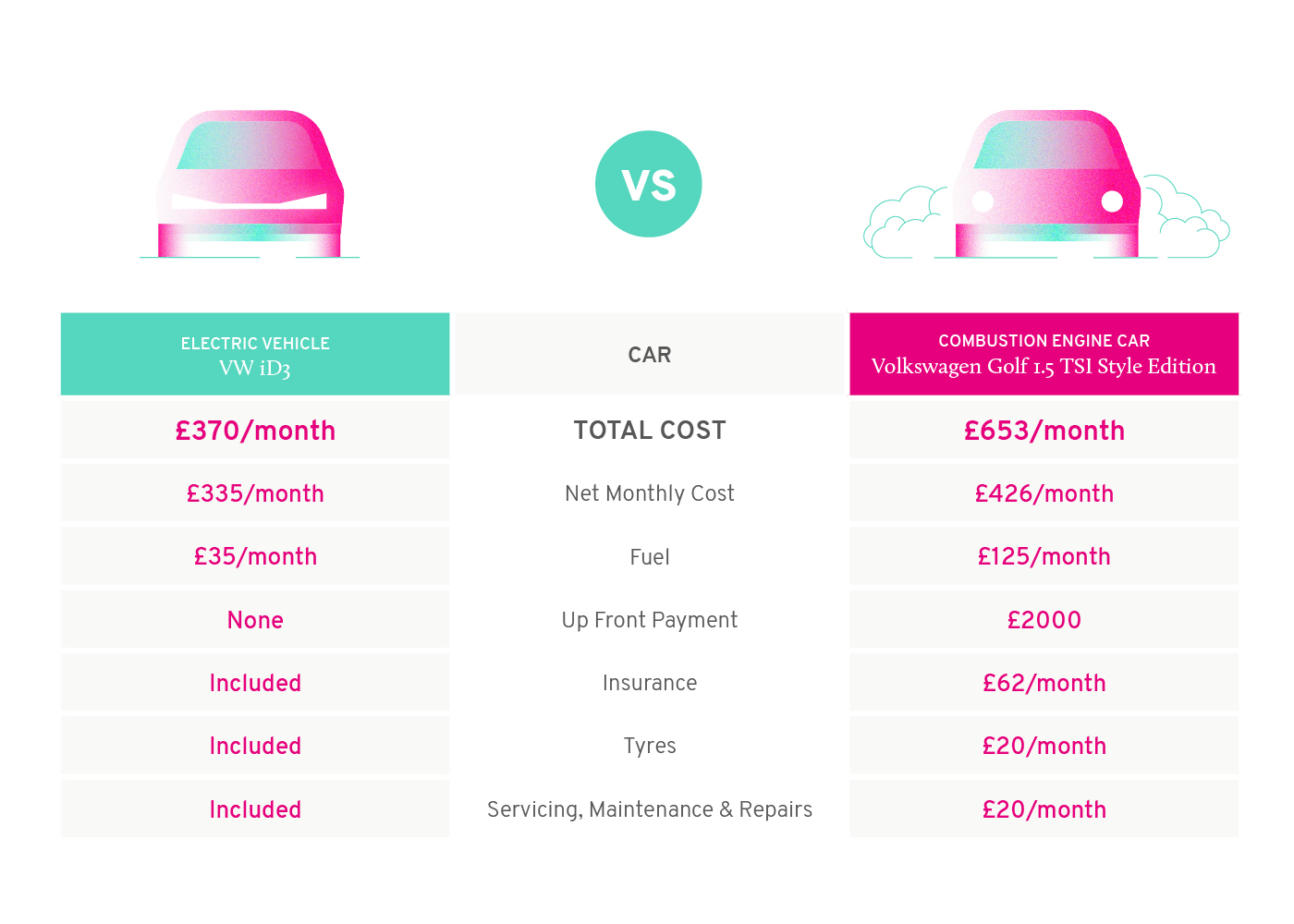 Prices are indicative of typical differences between salary sacrifice and personal lease. Pricing correct as at June 2023.