The UK government yesterday announced the plan to ban new petrol and diesel cars in UK from 2030, with hybrid cars following soon after. We wanted to give some insight in to what this might mean for the industry, and how this may affect you, the customer.
Firstly, the UK government was already planning to ban new sales of diesel and and petrol engines, so in many ways, this announcement is only accelerating that plan. Nor does it make the UK the earliest in the race to abolish fossil fuel powered cars, with Norway having committed to banning sales from 2025.

It is good news however, for climate activists. As Pike + Bambridge MD, Piers Bambridge, recently noted in his "Zero Carbon Car" presentation to the Institute of Directors Annual Conference, 'mass adoption of electric vehicles is not simply a nice to have, it is a social imperative'.
Look behind the headlines, however, and there are some worrying signs for consumers and businesses who rely on combustion-engined vehicles for their day-to-day mobility.
It remains to be seen how the automotive manufacturing industry, already struggling to extricate itself from decades of investment in production capacity for a technology that will be rendered obsolete in less than a decade, will manage this without huge upheaval and cost.

We predict this cost will, at least in part, be borne by the customers, as manufacturers lose out on the highly profitable combustion-engine vehicle market and increasingly rely on the new technologies that, at present, are far less profitable.
The Profit Margin for Manufacturers
Put simply, petrol and diesel cars make money, electric cars don't. Remove the petrol and diesel profit-makers, and it is likely that we will all pay more for our cars.
This may be offset by individuals experiencing cost savings in running costs, but ultimately shifting the focus of a century-old industry and technology, within a decade, is going to prove expensive. Without much greater government support than the £4 billion promised this week, it is the public who are likely to bear the cost.
At a time when profitability for major car manufacturers was already under pressure before the pandemic, the cost of shifting so quickly to a new technology has major implications for the industry. Expect much greater consolidation and the 'homogeneous-ation' of many of the technologies you experience in your cars, as manufacturers increasingly share R&D costs.
Not the End, Rather the Beginning of the End
Amongst all the hyperbole over the death of combustion-engined vehicles, it is important to note that 2030 will mark the date when new car sales must be either hybrid or fully electric. Given the 'UK fleet' is currently made up of 35 million vehicles, and new vehicle sales are approximately 2-2.5 million units per year, it is likely it will be 2045 before we see the eradication of diesel and petrol vehicles on our roads.
Many argue this is not soon enough, and greater incentives need to be placed on new electric car sales, perhaps in line with greater penalties on running older technology-engined vehicles.
The Role of Autonomous
As noted recently by McKinsey, autonomous vehicles are no longer a possibility, but an eventuality, with the consultancy firm suggesting that 45 percent of global new car sales will be at 'level 3' or above by 2030. This level includes a high degree of autonomous vehicle management, including many things we see now such as lane departure assistance, and automatic braking.
Level 5 autonomy, where the car acts as a 'virtual chauffeur' will still represent a small percentage of global new car sales, but the UK is set to buck this trend with the UK government keen to encourage autonomous development, partly due to the population density and the impact autonomous vehicles are predicted to have on air pollution in major urban centres.
Only with a tandem approach to embracing autonomous vehicles and electric vehicles, will the dramatic shift work. The pressure on the charging infrastructure, particularly in urban centres, can be significantly reduced by the shared usage that fully autonomous vehicles will offer.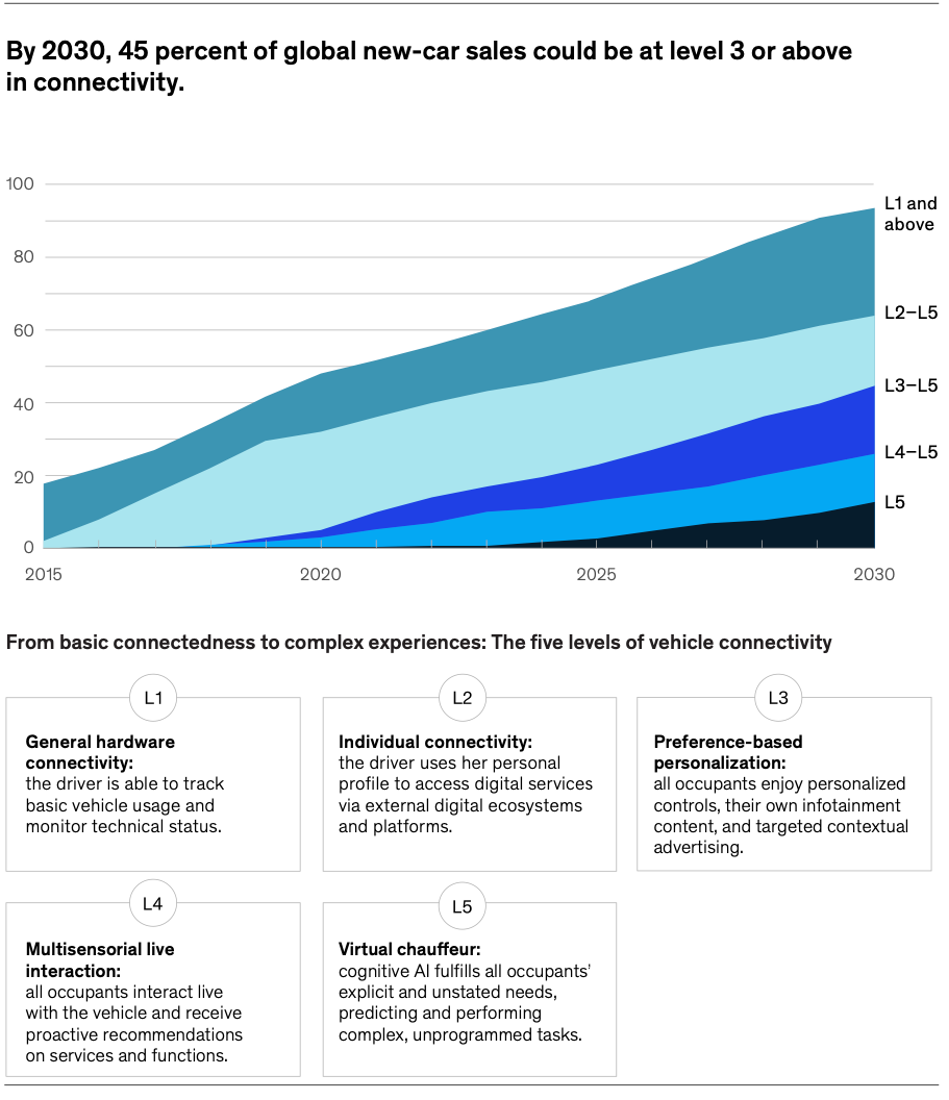 What Next?
Whatever the future for autonomous vehicles, it is clear that electric vehicles are now going to experience an explosion in usage over the next decade. Little more than 2-3 years ago, huge questions remained whether electric would indeed be the pre-eminent technology to power our cars, with things like hydrogen fuel cells mooted as alternatives.
From less than 2% of the UK market in 2019, we envisage the electric vehicle space growing exponentially, with all the pressures this will bring on to the infrastructure of the UK.
Government initiatives are welcome, and create headline grabbing news stories, but it is at a local level where decisions made around planning, and electric car incentivisation will really make the difference.

We'd like to see far greater preference for electric cars in parking or use of bus lanes, as well as proper investment in urban charging infrastructure. Given the scale of the challenge, and the huge impact on the public finances of the COVID-19 pandemic, there is a marked difference between announcing a policy and enacting fundamental societal change.
For consumers, there is a great deal to understand and plan for, with the industry needing to move on from its traditional, transaction mentality of 'getting people into a car', and far more focus placed on the advisory, consultative process.
At Pike + Bambridge, we continue to work with individuals and businesses to remove the hassle that comes with buying a car, and offer expertise in both vehicles and finance. With business owners set to benefit in cost savings, particularly in the short term due to the tax incentives available for electric car usage, we're excited to be at the forefront of this seismic shift in the way we move around.