In the first part of our electric vehicle series, we looked at the market as a whole and the prospects in the short to medium term for our clients to begin fully embracing the advent of hybrid, and especially fully electric vehicles.
We mentioned that "if you have off street parking at both the home and the office, as well as a predictable commute of relatively low mileage, it is probably time now to look at electric vehicles, as the benefits are indeed numerous."
This second part looks at some of the likely models you could consider if you are indeed beginning to consider a fully electric vehicle. The options for hybrid vehicles are numerous, and we do not aim to cover them here. One thing to bear in mind with hybrid vehicles is that unless you are doing very low mileage in urban areas, you are often running your vehicle on its petrol engine, meaning if it is a 4x4 hybrid, you may well end up having much higher fuel costs than predicted.
As previously mentioned, if you are a high mileage user, or have limited access to home and/or work charging points, from a purely financial and practical perspective, we would recommend you do not yet commit to a fully electric option, as the costs probably outweigh the benefits. If, however, the choice to move to fully electric is an environmental consideration, and you are willing to suffer some impracticalities around your usage, as well potentially pay a premium for this decision, then the below models may be of interest to you.
The below is intended as a 'whistle-stop tour' of the SUV electric market in early 2019. As ever, our highly-trained team are available to offer further insight and advice should you need it.
The SUV market
The 4x4 vehicle segment represents the fastest growing segment of the industry over the past decade, as well as the highest margin area for manufacturers so it is no surprise to see many manufacturers focus on this market for their first foray in to fully electric vehicles.
Below we look at some of the vehicles available now or very soon in this market, with a focus on the premium market that we typically represent.
Tesla
For a long time the only option for a fully electric vehicle, Tesla's recent leadership and cash struggles are well-documented, and not the subject for this piece.
They remain the market leader in electric vehicles, with the Model X already available as their SUV option.
In the UK, significant tax advantages around write down allowances and benefit in kind (company car tax) have seen this car become a popular option for senior staff in recent years. Future values and indeed the future dominance of the brand in the electric vehicle are certainly up for debate.
Jaguar Land Rover
The British carmaker has put its weight behind Jaguar as its flagship brand for fully electric vehicles, with the I Pace, launched to the UK market in 2018, aiming to compete directly with the Tesla Model X. It has had limited success, selling around 6500 vehicles in Europe in 2018, and only 400 in the US.
It also faces strong competition from Mercedes and Audi, see below for more on their options.
Jaguar have also joined many other mainstream manufacturers in the Formula E series, the brands commitment to electrification is clear.
How well the far more profitable Land Rover brand manages to build on this success will be key for the future of the business as a whole.
Land Rover have yet to announce any fully electric vehicle, instead focusing on bringing a range of hybrids in the shape of the "P400e" models to their existing Range Rover and Range Rover Sport models.
Audi
Audi launched the e-Tron to great fanfare in late 2018, with the tagline "Electric goes Audi", in a nod to the Mercedes EQC launch tagline, "Electric now has a Mercedes".
It claims a range of 248 miles, and is perhaps the first fully electric car that does not aim to be radical, simply to present an all-electric option to existing SUV, and Audi, buyers.
The e-Tron has a list price starting at circa. £71,000, so for a 5-seater only SUV, it isn't cheap, but the finance options (we've put an example below), and running costs, should mean its total cost of ownership is comparative to the likes of a combustion-engined BMW X5, or Land Rover's Range Rover Sport.
Mercedes
Similarly to Audi, Mercedes have launched their first full electric vehicle in the mid-sized SUV market, with the new Mercedes EQC using much of the technology and production lines from the current Mercedes GLC.
Again, like Audi, it will have a price point around the £70,000 mark, and is expected to begin arriving with clients in the UK in late 2019.
BMW

BMW will follow their two main rivals in Audi and Mercedes, by launching their competitor, the BMW iX3 in late 2019. It is suprising that this will come after Jaguar, Audi and Mercedes have all launched their cars, given the fact BMW was the first major premim automotive to embrace electric-powered technology, most notably with the i3 and i8 models.
Whilst BMW may lack in speed to launch this first vehicle, we expect to see them make up for in range, as rumours are that BMW's 2020-21 period will see the launch of a number of models that approach the 'holy grail' of range for electric vehicles, that of a 400 mile range. Multiple studies suggest that this is the range that will prove the catalyst for mass adoption of electric vehicles.
What this means for vehicles available now, with 'true' range of around 200 miles, is one of the biggest unknowns in the automotive market.
It is this final point that leads many leasing and finance companies to be so cautious in promoting the electric vehicle market, as the residual value risk could be enormous.
Porsche
Porsche launched their 'Mission E' concept over three and a half years ago, mirroring parent company Volkswagen's commitment to electrification.
Mission E became 'Taycan' in 2018, and the first model we will see will arrive in September 2019, possibly at the Frankfurt Motor show.

The Taycan will be a 4-door saloon car, with over 600 horsepower and a possible range of 300 miles.
Porsche have taken over 20,000 deposits on the car already, so we do expect this car to be a huge hit over the coming years.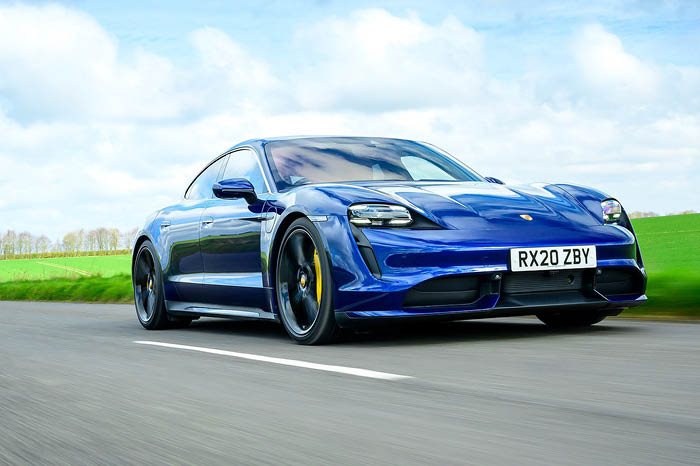 The above is just a sample of one segment of the market for electric vehicles in the coming 12 months. We've not mentioned the Volkswagen ID (designed to replace one of the world's best selling cars, the VW Golf), or the Honda 'E Prototype' which was featured at the recent Geneva Motor Show.

As always, Pike + Bambridge offer an independent, expert view of the market, both for vehicles and for the associated finance.
One thing that is certain in this period of unprecedented change is that the value of an independent advisor cannot be over stated.
We'd love to hear from you if you have any thoughts or can suggest anything we've missed in this brief tour of the electric SUV market.