The new Mercedes EQA will be Mercedes-Benz' second fully-electric vehicle under the EQ sub brand. The German brand's smallest electric SUV to date is set to go on sale in February 2021 and then introduced into UK markets in late March. With its majestic exterior and luxury interior, this EV will be sure to appeal to many within the Professional markets.
The original EQA concept was a hatchback, but the production version will be a compact SUV, with dimensions and design expected to be very similar to the Mercedes GLA. This exciting new model has been illustrated as an alternative to the likes of the BMW iX3, Volkswagen ID.4 and the upcoming Tesla Model Y.
There are three trim levels with base specification:
AMG Line inc. sports seats, slightly different bumpers and a small rear diffuser
Progressive Models inc. lane keep assist, brake assist and full LED lights as standard.
'Electric Art' inc. rose gold touches.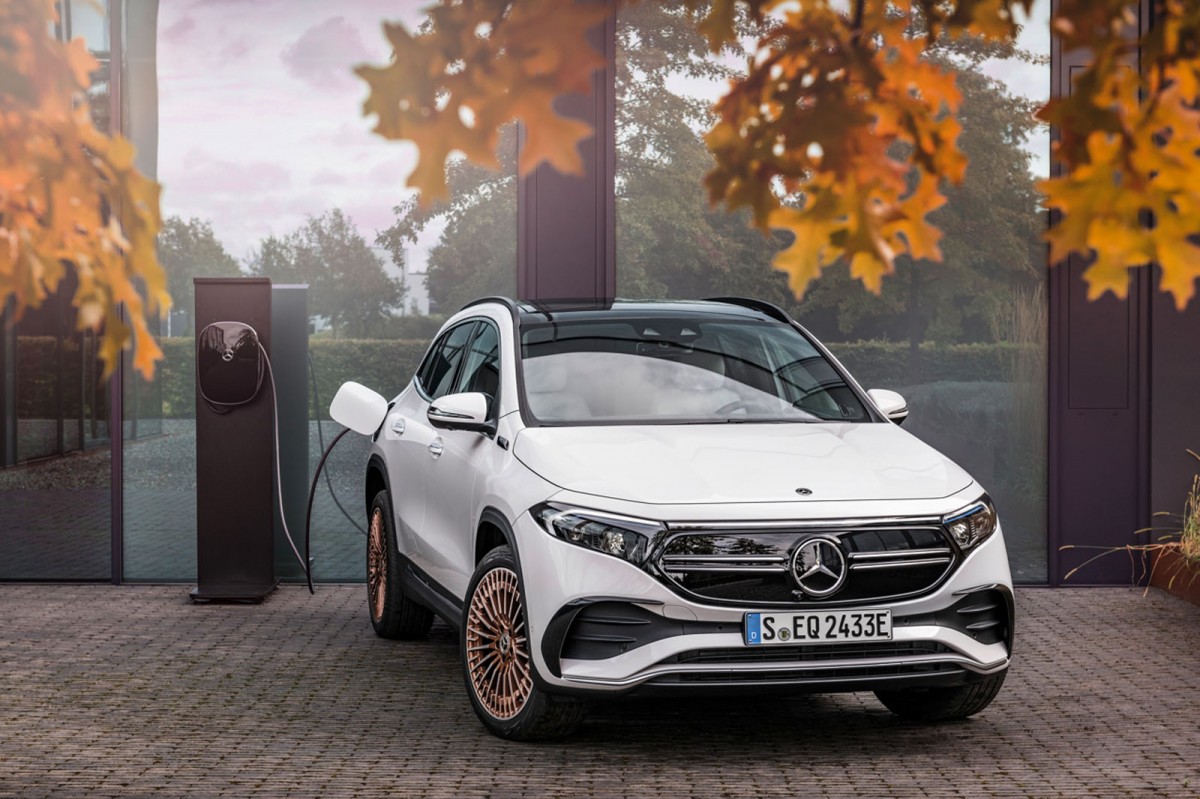 Charging
Mercedes say the EQA can do a pretty impressive 265 miles on a charge. Pike + Bambridge research suggests that real world range, particularly in winter, may be more like 200-220 miles. This still represents plenty of range for the vast majority of people's daily usage. It uses a 66.5kW battery which is stored under the floor meaning more boot room to fit your golf clubs or your weekly shop! The vehicle can be charged via wallbox and using an 11kW wallbox can charge it from 10% to 100% in under 6 hours, however, you can also plug it into a 100kW public fast charger which can charge up to 80% in half an hour.
Facts
Top speed – 99mph
64-ambient lighting (standard)
4WD model coming soon with Long-Range version in development
Based on the existing GLA
265-mile range (The actual range will however depend on several factors including climate, terrain, use of climate control systems and driving style)
Dual screen infotainment system (standard)
0-62mph in 8.9 seconds
5 Seats
As we move closer to the petrol and diesel ban in 2030, the EQA will certainly be a fitting option for clients looking to now go electric. With so many concerns regarding range anxiety, this new EV will ease your worries, especially with a long-range model currently in development. We are thrilled to see manufacturers developing and progressing their electric vehicle capabilities, helping the transition into the new electric world.
Our team will begin to have an idea on what pricing will look like on the EQA in the coming weeks. If you'd like to know more, our expert account managers are available to answer any questions you may have on Mercedes' newest EV.