In October the UK Government launched their Net Zero Strategy just weeks before Glasgow hosts world leaders for cop26. The strategy re-confirmed that by 2030 the sale of new petrol and diesel cars will cease, and it also highlighted new investment into EV charging infrastructure, with a focus on street residential charging. If you've been thinking about making a move to electric but aren't sure where to start or what to expect, hopefully this blog will help!
I recently joined P+B to lead the marketing function and until now hadn't had the opportunity to drive an EV. As such, I've been a recent adopter and over the last few months have been driving the Audi e-tron 50. However, on a recent family trip I had the opportunity to drive the Tesla Model 3 and got to experience first-hand the technology that Tesla have developed.
Setting up your car:
When you first drive the Tesla 3 it's important you spend a good 10-15 minutes getting used to the technology as pretty much everything is controlled from the large display screen in the car. You have a card the size of a credit card to access the car (no key!) and once in it you have a range of options to personalise your drive to your needs. From moving the steering wheel column to the optimum height, to setting a personal profile for your seat and mirrors, once setup you can save your profile if others in the family are using the same car – saves time for those in a morning rush!
The Experience:
Based in Edinburgh, for a family break we headed up to Huntly, a small town within Speyside. The Tesla Model 3 Long Range was ideal for a longer run as it comes with a Real World Range (RWR) of around 295 (Tesla's official range is 360). I picked up my young nephew on route and drove to Huntly with 120 miles spare.
We were in an area of Scotland with very limited mobile coverage, and as such Sat Nav didn't connect on a couple of occasions. If you're driving in an area of the UK you're unfamiliar with that doesn't have coverage then make sure you know your initial stage of the journey without it!
There were four of us in the car for day trips out and the Long Range model felt spacious and comfortable, with a panoramic glass roof offering great views of the area. There are also cameras all round the car so reversing into tight spots is easy with full visibility via your display screen.
It takes a while to get used to accessing everything via the screen. The only things controllable from the steering wheel are gear changes, front wiper control and full beam lights – so spending time getting to know the car at the start is key.
Charging the Tesla Model 3:
The two most useful apps (there are LOTS of them!) I use are Zap-Map and ChargePoint Scotland. ChargePoint Scotland have a large network across Scotland, with many charging units free to use – be sure to register for an account so that they send you a card (linked to your bank account) so that you can access this service. In the UK there are now 624 Super Charger hubs, with 60 based in Scotland across ten locations. While I was away there was a slight frustration that two of the 50kWh chargers in the area had been out of service for a good few weeks, with the slower 7kWh chargers easier to access. However, there were two Evolt chargers in local towns and each cost around £15 to fully charge the car - a significant lower cost than filling a petrol tank in a similar sized car.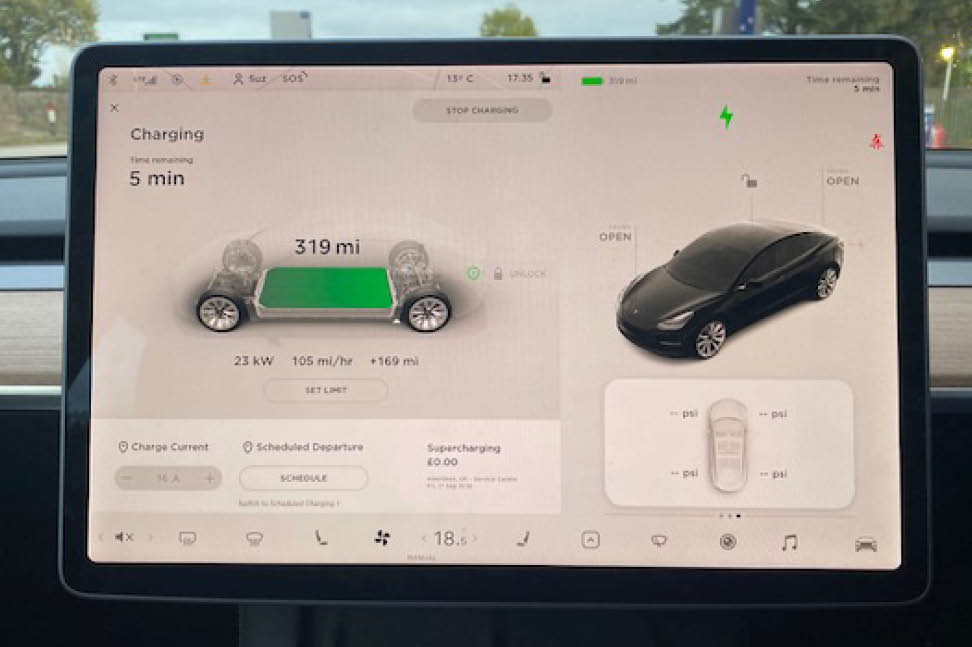 What I really enjoy about driving electric is you get chatting to lots of people! I recently met a lovely older gent from Brora in Aviemore who was driving his sister's car from Orkney down to Edinburgh. There was a funny moment when he went to press the 'emergency stop' to stop the charge – thankfully I was there to give him a walk-through of how the charging station worked. I also met a business man from the central belt who was on holiday and raved about the tax and fuel savings he'd made by moving his Company Car from petrol to electric. He felt he'd saved around £400 in fuel alone since adopting it four months ago.
How long to charge?
When in Huntly I used an Evolt charger at a local petrol station. It took around 1 hour to charge it from 70 miles to 320 – there was a Costa coffee on site and after a quick cup and a read of a magazine, I was ready to get on the road again. Officially stats show charging times to be:
· 0-100% Home 7kw Charger 9 hours 15 mins
· 10-80% Rapid Charge 150kw Charger 33 mins
Overall view:
The is no doubt that the Tesla Model 3 offers a fantastic drive. The range available on this model from a full charge certainly eliminates any 'range anxiety' that may exist and gives confidence in a longer drive. If you're comfortable with technology and controlling most things from the display screen then this is definitely the car for you. I can't wait to drive it again!