What is your car worth and how to make the most of the unprecedented used car market…
The world feels to have been turned on its head over the past 18 months, and the used car market is no exception. Many readers will already be familiar with the unheard of concept occurring this summer; your car is appreciating in value.
Critical issues in supply chain for all manufacturers, particularly the supply of semi-conductors that our cars now rely on for everything from electric seats to panoramic sunroofs, has meant new car supply has been heavily constricted, just in time to meet a period of soaring demand as COVID-19 restrictions ease across the globe.
This has created a domino effect in used car values across the world, and especially in the UK where Brexit supply chain issues have only added to the challenges for major car manufacturers.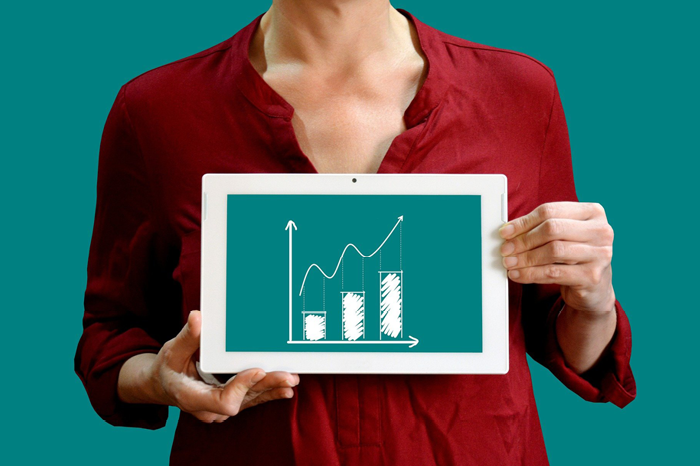 When will this change, and how can you make the most of it?
It was reported recently by the BBC that in August the UK had its highest increase in inflation since records began in 1997. Indeed, strong consumer demand has resulted in record breaking increases in used values in recent months and has persisted for far longer than could reasonably have been expected. Several supply issues have also extended new car delivery lead times and a combination of fewer trade-in vehicles and delayed fleet replacements have contributed to this record strength.
Although it is expected the current strength in the used market to last for several more weeks and possibly to the end of the year, the magnitude of the increases in recent months has been hard to comprehend and is certainly not sustainable, with a market correction at some stage appearing to be inevitable.
One-year-old vehicles will remain in relatively short supply for the foreseeable future, and while this would normally help support their values, the industry view is that despite new car shortages, the dominant factor will be depressed consumer appetite for what will be a relatively expensive purchase and that lead times for the majority of models remain short enough that consumers will hold out for the new car.
Below are a couple of examples of how our clients' vehicles have 'bucked' the usual trend In the used vehicle market in the past 6 months;
2019 BMW X5 xDrive MSport
Client sold car via online car buying service for £51,000.
Bought used In August 2020 for £46,465
Industry 'clean' value in March 2021 £42,200; June £45,900; Sept £48,100
2018 Range Rover Sport
Industry 'clean' value In March 2021 £44,700; June £46,100; Sept £46,900
Get out now for diesel and petrol cars.
Growth will be led by battery electric vehicles (BEVs) which we expect to become the dominant Alternative Fuel Vehicle (AFV) type by 2023. Post-Covid driving patterns (shorter and few journeys due to the increase of home working and online meetings) are likely to add to demand. The Government's proposal to ban new Internal Combustion Engine (ICE) cars from 2030 will also be part of this increase, provided enough vehicle supply is made available and investment in charging infrastructure keeps pace with demand.
The chart below shows the forecast market share split by fuel type. Petrol and Diesel volumes include mild hybrids. The decline in diesel will continue but slow down since it may remain the right choice for a minority of drivers.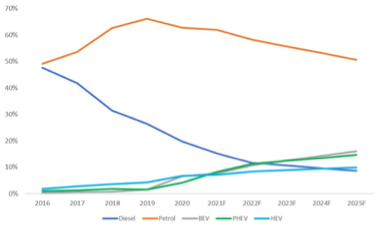 SOURCE: CAP HPI
Inflated Market = Inflated Market
One option many people have been exploring this summer is whether to 'cash in' on their current car at the top of the market, and, given the lack of new car availability, replace it with a used (but slightly less used) car.
The major issue with this is that the inflated price of your current car is equally matched (and perhaps exceeded in £ terms), by the inflation on your used car purchase options. Coupled with generally higher interest rates, you are in danger of losing any advantage you gain from selling your car.
Where this will really bite is when the used car market plunges as it inevitably will do at some point. Paying over the odds now for a used car, with a possible high interest rate (anything over 6% APR is high in the current market), means you'll find it much tougher to exit the finance later. Add to that the fact your warranty will probably expire before the end of your finance deal, and you have an expensive short-term decision to live with for some years to come.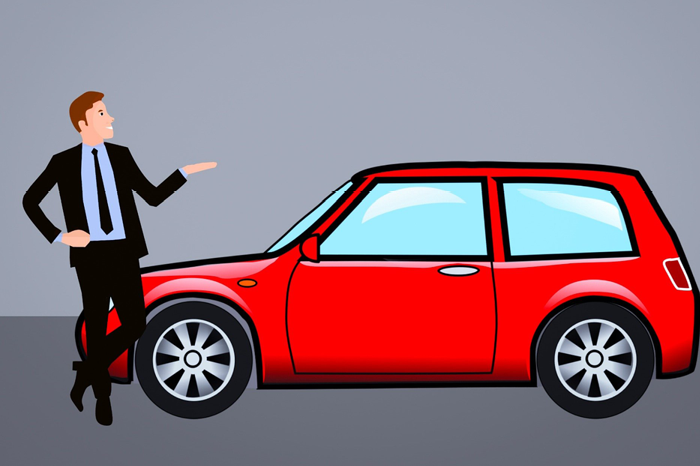 Beware of dealerships encouraging this course of action. As always, there is a fundamental issue in the car industry with the supplier-focused business model, rather than the client-focused model of the modern world. Dealers are desperate to sell used cars to bring cash into the business. With many dealers needing upwards of £250,000 per month to cover the operating costs of their sites, and new car deliveries grinding to a halt, the motivations of encouraging a quick decision have to be questioned. In addition, dealership salespeople are heavily commissioned on deliveries, not sales, so any new car salesperson has consequently had a major salary reduction in the past few months. Once again, this highlights the dysfunctional nature of the dealership business model.
We have heard reports of Land Rover dealers suggesting there will be no new cars until 2023, so it is best to order the used one on the forecourt, something that has no foundation in reality.
What are your options?
Firstly, it may be that you don't need to act. If your car serves its purpose, and you're not looking to start taking a bus to work, it may well be best to sit tight, and ignore the hyperbole around the used car market.
If you are coming towards the second half of a PCP contract, or you own your car outright, it makes sense to at least review your options, especially if it is a diesel or petrol car, as discussed above. Most importantly, acting early, with new car lead times in mind, will save you missing out on the current spike in used cars.
One option is to cash out of your current car, and take a month to month lease/rental in the short term. This is particularly attractive for business owners, who may well be able to run this short-term car through their business, with tax benefits for doing so.
The lead time on new cars is not going to shorten until at least the first quarter of 2022, with no manufacturers currently building to stock, and very few able to keep up with demand across their entire range.
Electric cars and plug-in hybrids will continue to be prioritised by manufacturers as they race to avoid fines from Government's on their emissions targets, so its worth reviewing if you can switch to electric, as you'll likely receive your car quicker than if you order a big combustion-engined car.
As always, consulting an independent, advisory service makes a lot of sense in the chaotic world we live in.