The first fully electric all-wheel drive from BMW is set to hit UK roads later this year – here's what we've learned about it from our partners at BMW.
The first three things customers look for in this segment are range, drivability and looks. The first is straightforward – iX boasts more than 370 miles on the range-topping variant. The second is likely to be a big tick too – after all, it's a BMW. The third – well, it's certainly interesting. The massive 'kidney' grille now common to all new BMWs, the crease lines on the bonnet, the slit-thin head and taillights, all very futuristic. And that's exactly what they're aiming for – the slick brochure slicing straight to the point with phrases like 'the symbol of a new age', 'a living space on wheels', and 'a new way of life'.
There are even TARDIS-like references, such as the claim that the iX is roughly comparable to the X5 on the outside, but with an interior closer to the X7. It's certainly true that the interior is high-tech (more on the vast Curved Display that dominates the dashboard later) and packing an unsurprisingly high level of luxury appeal (see the sumptuous leather seats and cool new centre console). As for space, that remains to be seen – with boot capacity expected to be similar to the 650 litres found in the X5, if it is truly like the X7 inside that surely spells good news for second-row passengers.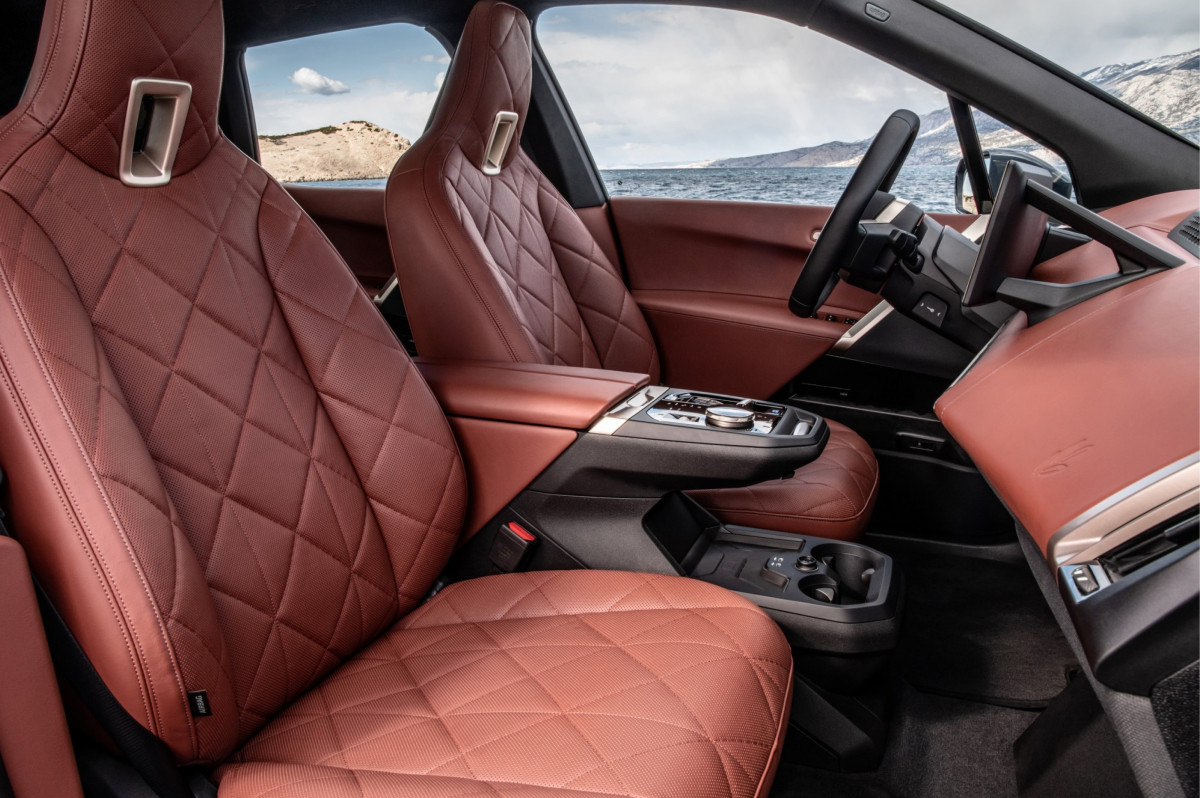 But back to point one – range. There will be two variants, with different performance levels. The xDrive40 will get a 70kWh battery, claiming 249 miles and producing 300bhp. The xDrive50 will have a 100kWh battery, claiming 373 miles and producing 500bhp. The xDrive40 will have a maximum charge rate of 150kW, while it'll be 200kW for the xDrive50 – meaning that both will be able to top up from 10-80% capacity in less than 40 minutes on a DC rapid. All iXs will be supplied with two charging cables, which certain other manufacturers could learn from.
While we're discussing its electric range, we may as well mention its other 'eco' credentials – such as the floor mats made from recycled fishing nets, the leather tanned using olive leaves, and the responsibly-sourced wood that makes for very classy trim. So far so good for BMW's vision of sustainable mobility.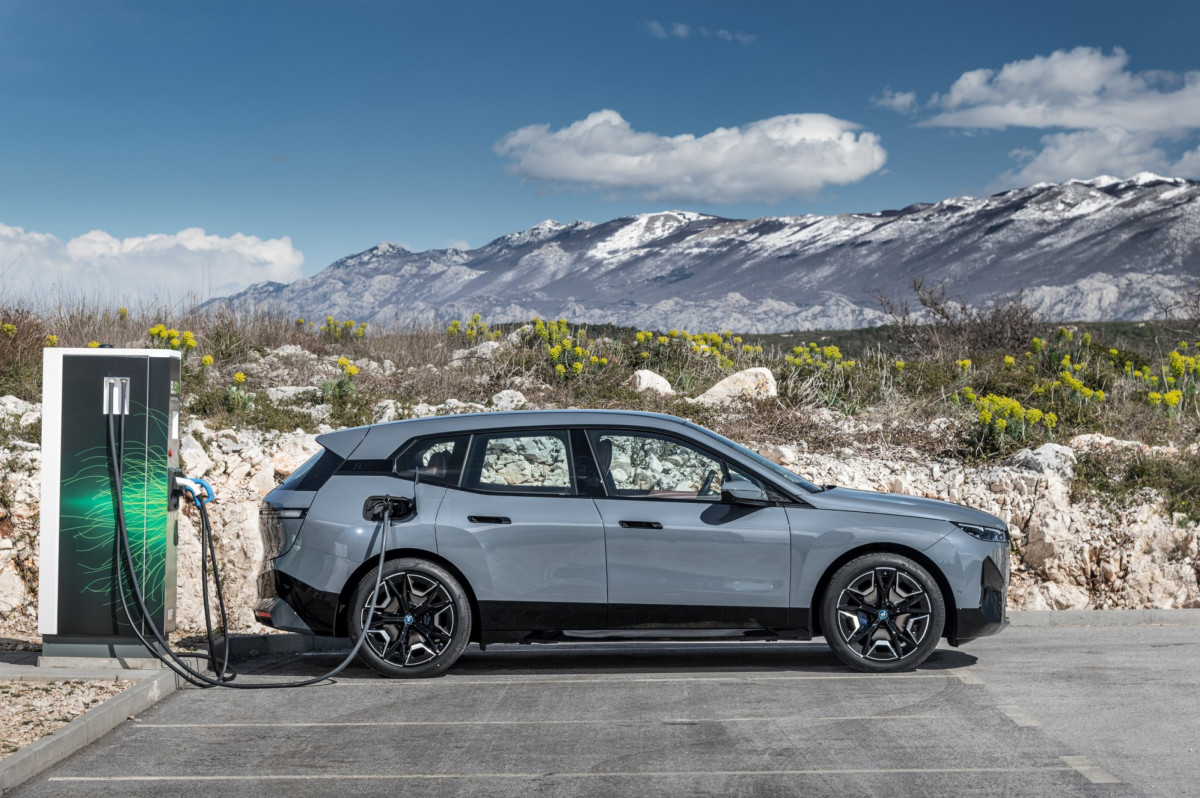 Speaking of the interior, there's a lot to take in. The hexagonal two-spoke steering wheel doesn't just give a motor sport feel, it's apparently designed to ease entry and exit, as well as make it easier to recognise the steering angle. Positioning the electronic seat adjustments on the door shoulders is always welcome. The Curved Display, incorporating all information, entertainment and controls into one unit, curved towards the driver, and operable via touch, gesture and voice, looks and sounds terrific – we look forward to experiencing how it works.
Both the 40 and the 50 include an impressive list of equipment as standard, including 21" alloys, heated front seats, four-zone climate control and panoramic glass roof. Head-Up Display, wireless charging tray, and Harman Kardon surround sound are also included. The standard packages are Driving Assistant Pro, which features active cruise control, steering and lane control/keep/change assist, and Parking Assistant, which features rear-view camera, parking assistant and active park distance control. Two-axle air suspension is only included as standard on the 50.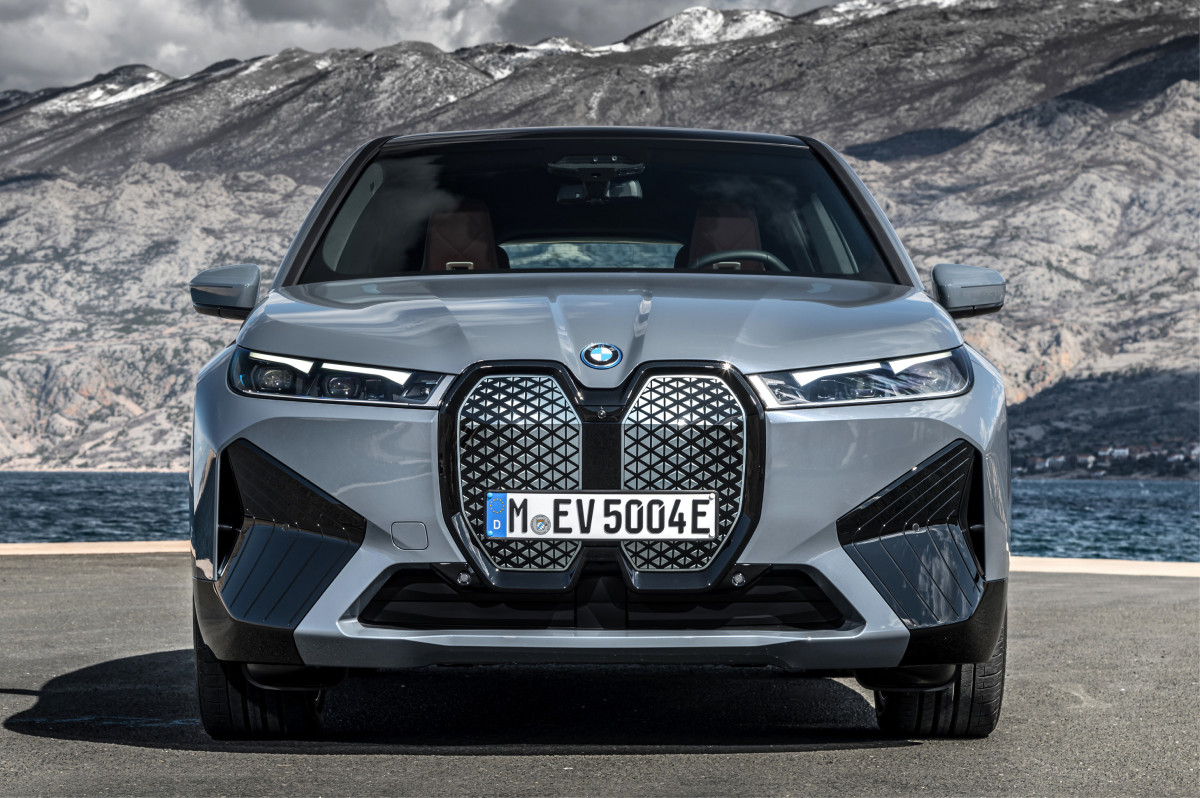 Customers wishing a heated steering wheel and multi-functional massage seats will need to choose the Comfort pack, and there is an upgrade available to the panoramic roof via the Sky Lounge pack. For those who desire an even higher level of luxury or tech, Comfort Plus includes soft-close doors, heated rear seats and seat ventilation, and Technology Plus includes interior camera, Parking Assistant Plus and Bowers & Wilkins Diamond surround sound – although interior camera and Parking Assistant Plus are available as single options. For clarity, Parking Assistant includes the self-parking feature, and Plus improves on this with additional cameras – the better view meaning increased safety and confidence in the system – whether it's worth the extra spend, probably depends on the driver's parking confidence.
With the first orders now in production, it won't be long until we see the BMW iX on UK roads – and as soon as we've had a chance to try it out for ourselves, we'll be sure to publish an update. In the meantime, contact our team of experts if you'd like to discuss a potential order.