With their ever-advancing technology, smartphones, smartwatches and in-home devices such as Amazon Alexa are playing an increasingly significant role in our daily lives. These clever gadgets respond to voice commands, stream music, direct us away from traffic, turn on lights and much more.
With connected services, car manufacturers are taking the next step by capturing all of this capability and integrating it with their vehicles. Every company offers some level of connectivity, ranging from Apple CarPlay or Android Auto, to subscription-based assistance. Availability often varies depending on the vehicle, the model year, trim level or selected option packages.
Activating Connected Services
Enjoying your car's connected services usually begins with downloading the relevant app, setting up an account and connecting your profile with your vehicle using the vehicle identification number (VIN). This takes just a few minutes and involves following some simple prompts.
Remote Vehicle Services
The most popular remote services include allowing you to precondition the interior with heat or air conditioning before you get into it, as well as giving you the ability to access the fuel/battery level, lights, door locks, windows, sunroof, and other functions. For electric vehicles, pre-heating the battery to optimise performance, and preconditioning the cabin while still plugged in and charging to avoid using these juice-guzzling features after getting into the car, are especially useful features.
Vehicle Location Services
The app-based vehicle-finder feature is designed to help you find your car, whether that's in a large shopping centre car park or after a concert or sporting event. Of course, it can also prove very handy if your car has been stolen, and some manufacturers even offer the technology to slow down and stop the vehicle if you discover it's in motion.
Emergency Services
Should you find yourself in an accident, it is reassuring to know that most manufacturers offer services such automatic collision notification and emergency SOS calling.
Wi-Fi Hotspot
If you use your vehicle as a mobile office, or have a family with multiple devices, having a Wi-Fi hotspot will be helpful in keeping you connected while on the go. Most manufacturers offer this capability, usually with a period of free subscription ranging from a number of months up to two years.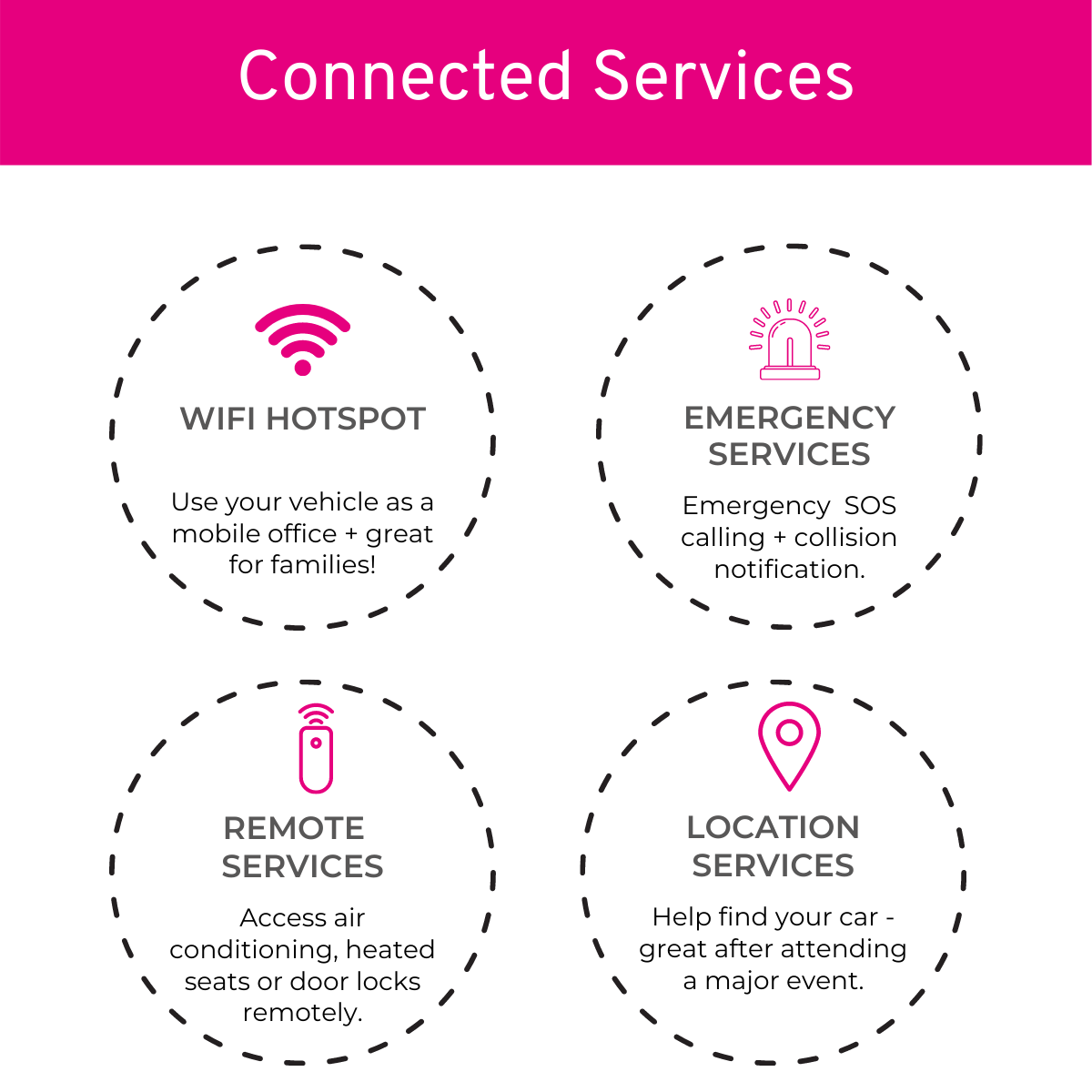 Top Three
Having more tech capability is one thing – being able to apply it appropriately is another. Manufacturers are needing to approach this revolution with caution, as it is not just about the most exciting offerings, but those which best meet the end user's needs. With that in mind, we've compiled a 'Top Three' of the best Connected Services apps available.
#3 – Mercedes-Benz
Mercedes Me may not quite live up to the brand's famous 'Best or Nothing' slogan, but it fully deserves its bronze medal here thanks to its sharp user interface and being reassuringly reliable. The feature which alerts the owner when the vehicle enters/exits a certain area, or exceeds a given speed, will be especially useful for those wanting to keep track of younger drivers in the family.
#2 – BMW
You can now enjoy your 'Ultimate Driving Machine' even when you're not in it, with the My BMW app's classy graphics providing a user-friendly gateway to a host of features including a clear, accurate display of electric range, Climate Timer and Charging Plan. The integration of Amazon Alexa for voice commands, and the Remote 3D View for monitoring the car's immediate vicinity, are particularly useful.
#1 – Tesla
As may be expected from the tech company disrupting the automotive industry, the Tesla App leads the way in the connected services space. Sentry Mode, which uses the car's external cameras and sensors to detect and record threats and send alerts to the owner's smartphone, provides an extra layer of security, while Smart Summon, which uses the vehicle's autopilot capability to bring the car to the owner, will be particularly welcomed by those needing to get out of a tight parking space. These, together with the snappy, effective UI, earn Tesla top spot on our podium.