When you're looking at going electric, it's common to be concerned about public charging and how you'll get on if you or your drivers need to top up on a longer journey. In fact it's one of the biggest topics we discuss with the many P+B drivers who are looking to go electric for the first time.
So we asked Ian Johnston and his team at one of the biggest charging networks', Osprey, to answer some of the basics. Osprey operate over 750 rapid charging stations across Great Britain that are simple to use with the tap of a bank card. Here's what they said:
How is the public charge point network evolving in the UK?
The public charging network is growing at its fastest pace ever. Here at Osprey we've doubled the size of our rapid network in 2023, to over 800 charge points installed up and down the country. Across all networks the latest figures are 45.7k charge points across the UK. If you're just interested in the really fast ones, about a fifth are rapid and around 3000 offer charging at more than 100kW.
As well as fast growth of rapid and ultra-rapid, the other trend is for bigger numbers of charge points at each location. So where a few years ago sites with two rapid charge points was more common, we and our peers are now installing 8, 12, 16 charge point hubs as standard. And these are much more powerful charge points, offering those 15-20 minute charging times for drivers.
A great example of a hub representing the future of charging is our Salmon's Leap site in Devon: https://www.ospreycharging.co.uk/post/osprey-ev-super-hub-opens-in-south-west.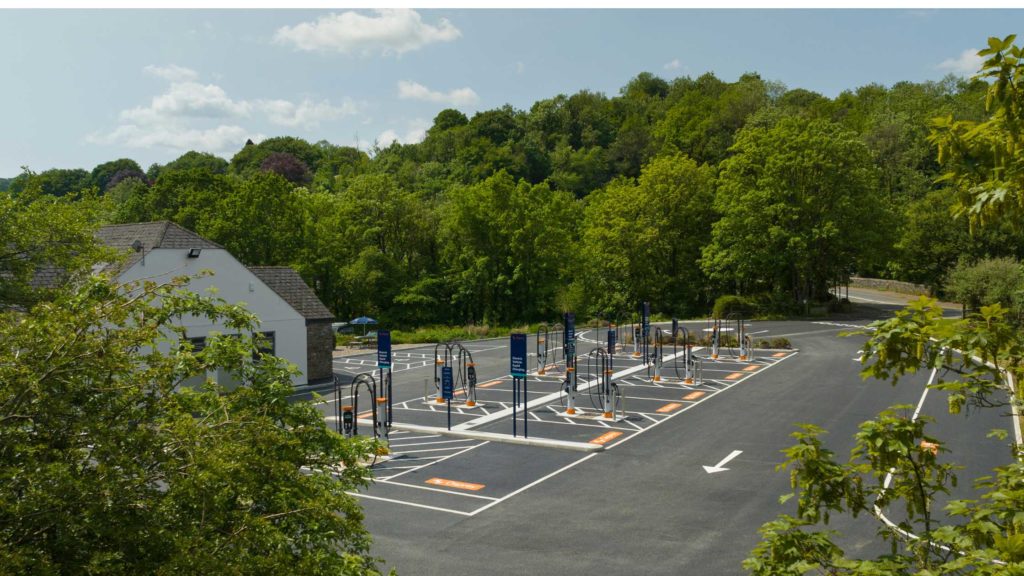 What efforts are being made in Scotland to make EV charging more accessible, especially in rural areas?
Scotland is really important, not least because so many drivers embraced electric vehicles early on. With the bestselling EVs on the market now offering ranges of 250+ miles, driving electric is a lot easier in more rural areas.
Osprey are nonetheless building infrastructure to ensure access to rapid, reliable charging for drivers across Scotland. Our 70-charger network spans from Inverness to Aberdeen to Stirling to Ayr, as well as on major routes around Glasgow and Edinburgh.
In the past couple of months we've launched three significant hubs in Scotland, each with 6+ charger points: Queen of the Loch on the shores of Loch Lomond, Caledonian Retail Park in Wishaw and Barrhead Retail Park south-west of Glasgow.
How can business collaborate with charging infrastructure providers to facilitate the expansion of EV charging networks in their regions?
Businesses that own land and/or a car park can become part of the charging network themselves by partnering with a rapid charging provider. The charging provider fully funds and operates the infrastructure, so there's no cost to the business, and it can bring in a new revenue stream as well as new customers.
In general can I use any charger and just use a debit card? Or do I need to sign up to each provider?
The majority of rapid charge points in the UK have a bank card (or Apple/Google Pay) reader that you can use to tap and charge. The government has mandated that all rapid charge points must now fit these. However, in Scotland, one of the main networks Chargeplace Scotland may not have bank card readers on their older charge points. For these, and for those who want easy access to receipts, signing up for an account with the network providers you use on a regular basis probably saves you time in the long run. At Osprey we also accept all major fleet fuel EV cards and roaming services.
How should I best plan for a longer journey in the EV?
Firstly, make sure you know your EV's range and what maximum charge rate it's capable of – this will usually be expressed in kW and for recent vehicles is around 100kW. You may be tempted to find the most powerful charge points you can, but for the vast majority of cars, a rapid charger anywhere 75kW-150kW will give the fastest charge your car can accept.
Consider where reliable rapid EV chargers are located on or near your route and be aware that the best chargers with good availability may not be at the motorway services. You can check live availability on the Osprey App, ZapMap, WattsUp and even Google Maps.
Recharge yourself, as well as the car. Take a break and combine charging with a natural rest stop to make the most of your charging time. There are various charging stations available at quick-serve restaurants, retail parks and supermarkets often just off the main road, as well as at traditional motorway services.
Finally, drive efficiently. This is relevant for all cars, regardless of their power source. To help maximise your EV's range, avoid fast acceleration (however tempting in an EV!) and harsh braking, and make use of your vehicle's eco mode.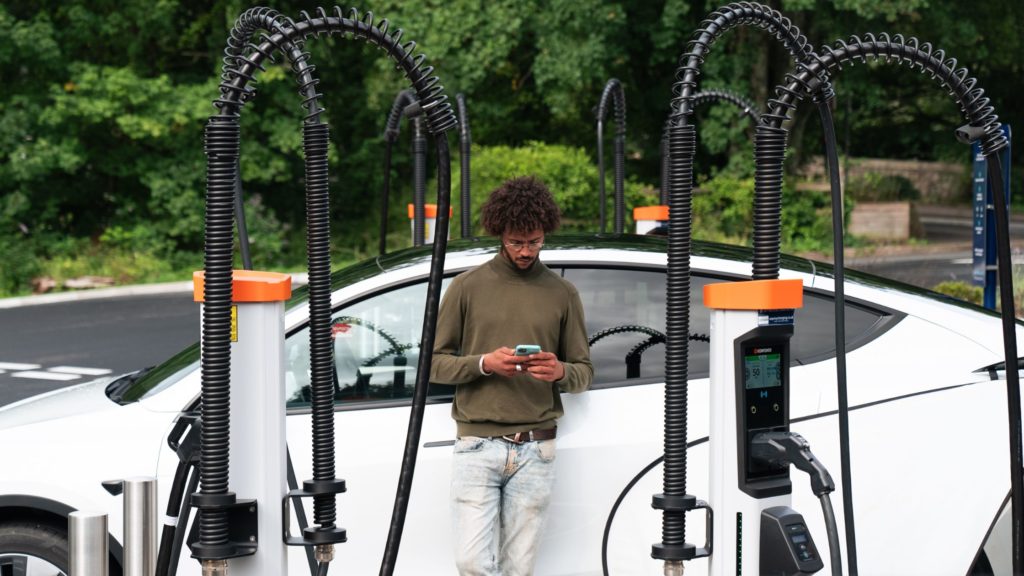 Is the charging technology (e.g. plug type) on new vehicles expected to remain the same into the future?
Yes, the European standard is called "CCS" for rapid DC charging (Type 2 for slower AC charging). Almost all existing vehicles (including Teslas but excepting the Nissan Leaf) on the market are equipped with a CCS rapid charging port and this is not expected to change in the future.
For answers to loads more driver charging questions, including an EV dictionary, head to https://www.ospreycharging.co.uk/driver-resources.
If you'd like to discuss making your switch to EV, or if you're already an EV driver and looking for a new vehicle, why not get in touch with our friendly team today.