One of the key worries our clients have when taking out a lease agreement on a new vehicle is the risk that you may be charged hundreds or even thousands of pounds at the end of a vehicle lease agreement. Whether you have a Personal Contract Purchase or Contract Hire Agreement, finance companies will look to recoup money in the form of charges at the end of the term. There are ways to avoid this happening if you follow the guidelines set out in this Blog.
Here are our top 6 Key points to help avoid end of contract charges:
1. Stay within your agreed contract Mileage
Make sure at the start of the contract you are realistic with your mileage allowance and try not to be tempted to reduce the mileage to bring down your monthly costs. Review your actual mileage against your contracted mileage on a 6-monthly basis. If you feel you are going to exceed mileage by the end of the contract you can look to amend it with your lease company. This will mean an increase in your monthly payment but you will avoid a nasty surprise payment at the end. It also works the other way, if you feel you are going to be under mileage you can again look to amend the contract and potentially bring your monthly payment down. It is important to note that some Personal Contract Purchase (PCP) agreements will not allow mileage amendments
2. Vehicle servicing
Make sure you service the vehicle within your contract to meet the lease company and manufacture requirements. All lease companies and manufacturers will have different requirements, but it is always important to clarify these at the start of your contract. When booking your service, always make sure there is a record of the service taking place in the form of an invoice, service report or stamped service book. Any missing service history will result in an end of contract charge.
3. Look after your vehicle and maintain it to a good standard
Lease companies work to strict parameters set out within the British Vehicle Rental and Leasing Association (BVRLA) Fair Wear and Tear guidelines. This allows companies to pass on damage costs to the contract holder at the end of the term to cover any lost value to the vehicle when selling it on. The Lease Company will share their fair wear and tear policy with you at the start of the contract and at the end when it is due to be returned.
It is important to check this against any interior and exterior damage to the vehicle. If you feel that there is damage that sits out with fair wear and tear, it is worth getting the damage fixed before the vehicle is returned. Fair wear and tear charges can differ dramatically between different lease companies, and it is always best to err on the side of caution and get the work done prior to its return. If you would like any advice on damage repair from our experienced P+B team, please fill in our Vehicle Appraisal form and a review can be completed.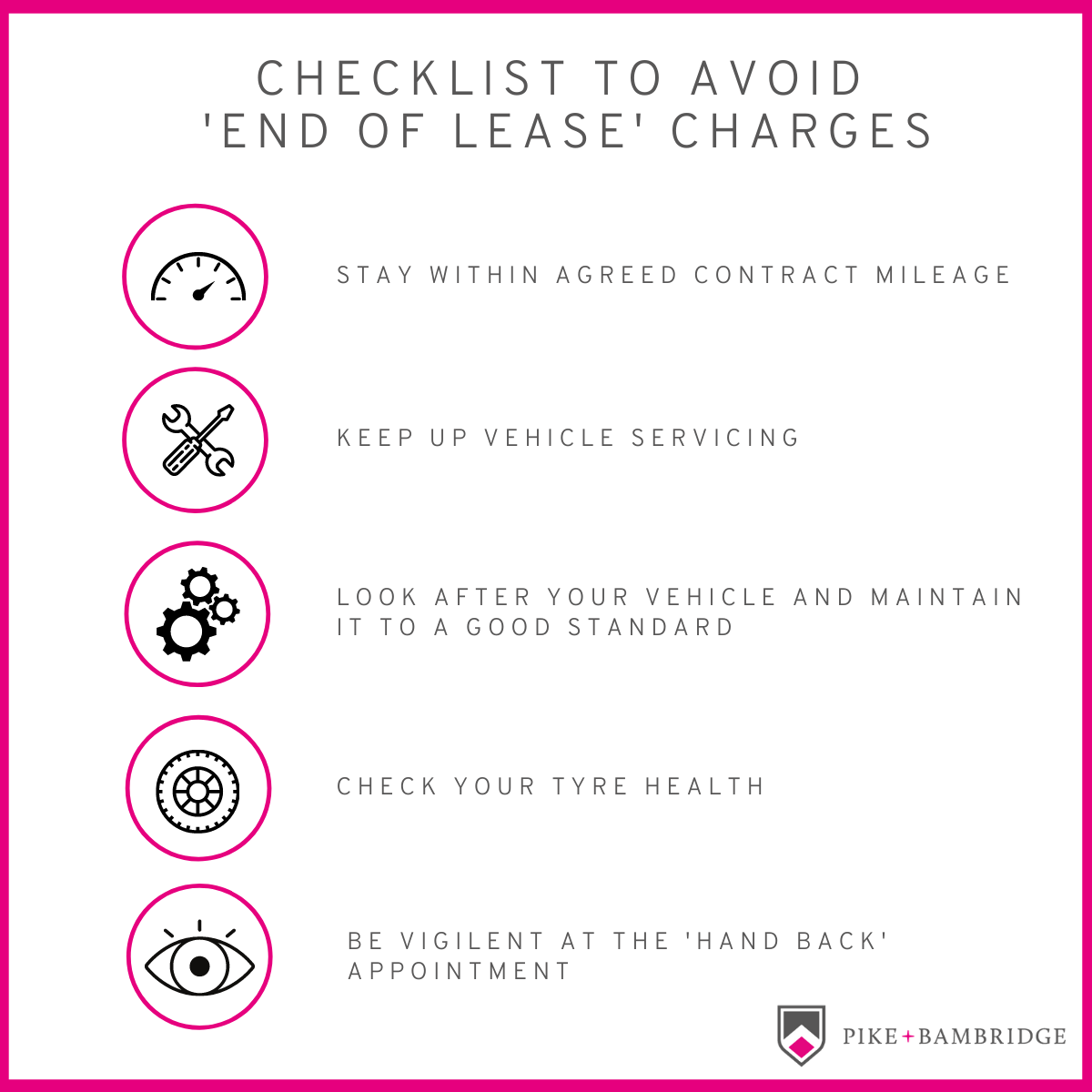 4. Make sure you have all relevant items still with the car
The terms of the lease agreement will require you to hand back the vehicle as supplied (out with fair wear and tear). Therefore, you will need to make sure you return all items within the car – 2 sets of keys, spare wheel (if supplied), manufactures handbook (if supplied) and locking wheel nuts and parcel shelf. Any missing items could incur a replacement charge.
5. Check your Tyre Health
It is important to make sure you are returning your car with tyres that are deemed as within the legal driving limit. It is also important to check what the minimal tread depth requirement is on the returned vehicle with the lease company as this may be higher than the legal limit.
6. Be vigilant at the hand back appointment
When your lease company send out their chosen collections agent to take away your car, a full assessment report will be made. It is important to make time to be at this appointment and get a full understanding and report of what (if anything) the collection agent is marking down as outwith fair wear and tear and other chargeable items. If you feel any charges are unfair you will be able to make your dissatisfaction known at this stage. This will give you prior warning of any charges and will make future disputes on these charges with the company a lot easier further down the line.
If all of the above is followed, your end of contract experience should run smoothly without any surprises. Inevitably there will be instances when charges are raised but it is important to note that all charges can be disputed and it is really worth doing this. All lease companies will have a complaints procedure you can follow at the end of your contract.