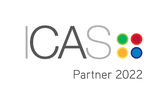 The Institute of Chartered Accountants of Scotland
Pike+Bambridge are delighted to have been chosen to partner with ICAS, offering personal and business vehicle supply to members and member firms.
Our expertise in working with professional services firms, whether through the Institute of Chartered Accountants, or our Law Society of Scotland partnership, allows us to maximise the group-buying power of the membership, giving access to unique discount terms and offers.
'At ICAS we are delighted to have been able to add Pike+Bambridge to our selection of Member Benefits partners. As a cut above competitors, they offer a high quality service and their tailored online platform is of added value for our membership.'
Amy Forsyth
Partnerships Manager
The Pike+Bambridge team specialise in setting up professional services schemes, including Partners Car Schemes, and offering a unique online service that can be added as an additional employee benefit to support the recruitment and retention of staff.
Our fleet services team, fully qualified by the Institute of Car Fleet Management, are able to add a unique value added service to accountant partner firms, offering our Sweet Fleet Analysis service free of charge as part of their year end review
If you would like to speak to us about your own vehicle, your firm's vehicles, or setting up a meeting to discuss how we can help your firm's clients, we'd love to hear from you, online, over the phone on 0131 5637493, or at partnerships@pikeandbambridge.co.uk.