Already taking the 2021 World Car of the Year title, we're excited to bring the model to life and provide more context around the best way to acquire one, in the simplest, fastest and most enjoyable way! Volkswagen's "ID" mean's Intelligent Design, and they've seemingly outdone themselves with their 2nd in the ID line up.
Crowned the World Car of the Year, the model took the crown following deliberations by 93 journalists from 28 countries at the International World Car Awards.
When ordering an ID.4 it can take a couple of months to arrive, but it'll be great to see the new model hit UK roads. For our Volkswagen clients we know you'll be excited for this one already, but we think everyone should consider looking at and learning more about this model.
Going electric means making changes and considerations that we just didn't need to think about before when getting a petrol or a diesel car. I.e. What range does the car have? How quick will it charge? Can I still use the central heating? Do I get the Government Grant? Should I get a brand-new Electric car or is second hand better? How much is it going to cost in comparison to my petrol car?
We may not be able to answer all of these in one short blog, but we'll expand on what this all means for the ID.4 and please feel free to search more on our blog site and speak to our Account Managers on anything else.
What size car is the ID.4?
Electric goes SUV in the Volkswagen range. We'd say think Tiguan size, but you'll have even more room on the inside. Without the need for engines, the ID model will give you even more leg and boot room.
Compared to the ID.3 with 385 litres of boot space, 520 litres in the Tiguan; the ID.4 offers 543 litres of boot space, is 4584 mm long, and 1852 mm wide. An electric car comparison has the Skoda Enyaq with 585 litres of boot space or the Kia e-Niro with 451 litres.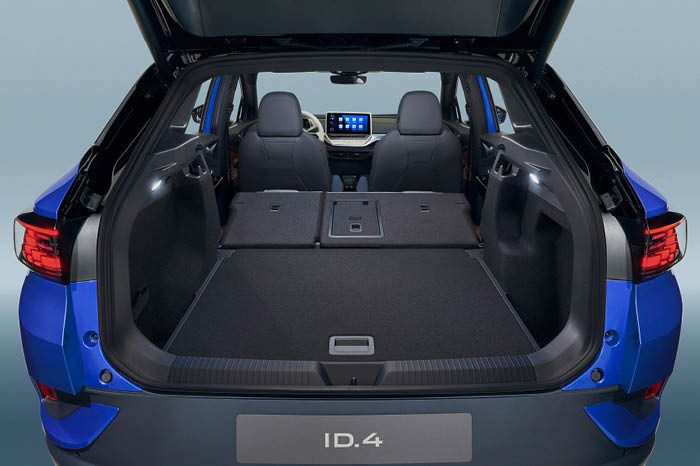 What's the range like?
Now that we have more than just the First Edition model (77Kwh 310 mile WLTP range our of a 204bhp), there are a few different battery choices for you, and with this it allows the ID.4 to suit multiple needs.
The options are:
52kwh* with 213 miles WLTP** range – 170bhp***
2kwh with 213 miles WLTP range – 148bhp
77kwh with 322 miles WLTP range – 204bhp
*A kwh, means kilowatt-hour. A kwh is the amount of energy an appliance uses in an hour.
**WLTP, real world range.
***bhp, break horsepower, power produced by the battery.
What are the options of specifications?
When choosing your ID.4, you'll have a few different options and specifications to choose from. From a "standard car" to a high-end model, all come with all the bells and whistles you'll enjoy.
"Family" for the family friendly, with additional panoramic sunroof and extra family-friendly gadgets.
"Life" for the everyday life. Coming with Sat Nav, Smart Phone Integration, Heated Seats, Adaptive Cruise Control with Black Trimmed 18" Alloys
"Style" for the stylish. In addition, get 18" Silver Falun Alloys, Rear Air Conditioning, Privacy Glass and Rear-View Camera as standard.
"Max" with the maximum technology, sport and comfort, with additional sporty seats, head up display, area view cameras.
Can I get a Government grant included?
The "Life" model access's the Government's £2,500 grant. Only cars under £35,000 are eligible.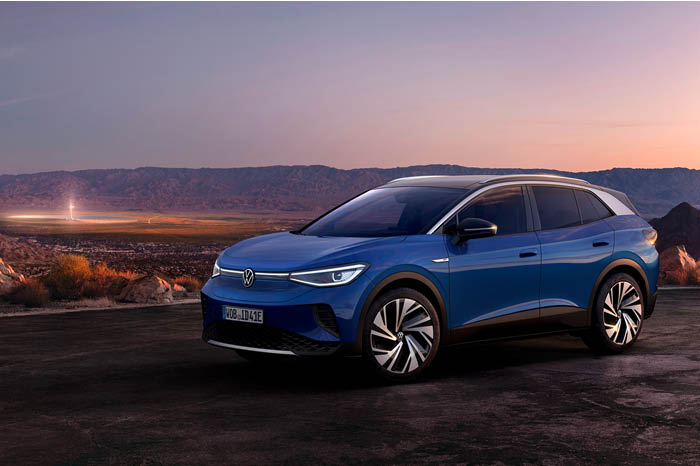 When will it arrive?
Right now the Volkswagen Id.4 will be a 15-week turnaround, so realistically August 2021 (as of June 21)
Our Verdict. What we think of the World Car of the Year.
Clearly Volkswagen know what they are doing, and we're really excited about this model launching officially on the roads over the coming weeks (if you ordered in March, you'll be getting yours soon!). The ID team and Volkswagen's CEO stated "We have succeeded in developing a car that starts the system change to e-mobility in the world's most important segment of compact SUVs and offers excellent everyday usability. With it, the ID.303 and the upcoming ID. models, we are making innovative electric mobility in the volume market something that can be experienced by everyone."
We'd say there isn't a wrong choice going for the ID.4. However if you are wanting to take advantage of the Government Grant, we'd say go for the "Life 52kwh" model. You'll be looking at paying £384 (exc VAT per month), based on a 3-year agreement, with 6 months payment upfront and 8,000 miles per annum*. If you go for the "Max 77kwh" model, you'll be looking at paying £525 (exc VAT per month), based on a 3-year agreement, with 6-months payment upfront, with 8,000 miles per annum.
If you're interested in finding out more, please get in touch today at membership@pikeandbambridge.co.uk.
* Disclaimer: All offers available to order with a fully refundable order fee. All offers are subject to change at any time and are subject to finance approval and vehicle availability.